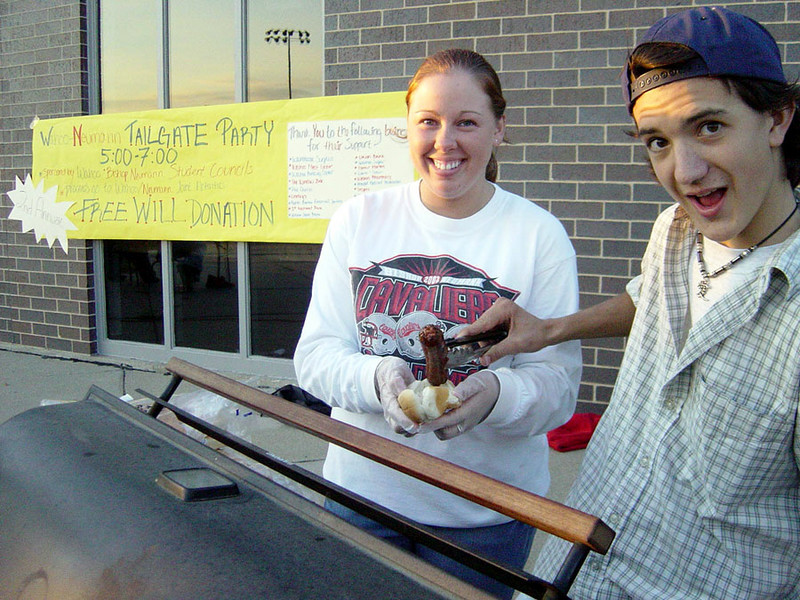 Wahoo Bishop Neumann High School Student Council Member Jamie L. and WHS Student Council Member Jesse S. team up as co-grillmasters for the second annual tailgate party, sponsored by the student councils of both schools. The event was held at WHS on Friday, October 21, before the Warrior/Cavalier football game.
WHS/Neumann StuCos Hold Second Annual Tailgate Party
The cooperative tailgate sponsored by both Bishop Neumann High School and WHS student councils to promote unity and good sportsmanship during the football game between the two schools was a second annual success.
The event was held on Friday, October 21, from 5-7:00 pm. Hot dogs, chips, cookies, pop, and hot chocolate were the choices of food purchased through donations from numerous businesses throughout town. Held by both of the schools' student councils, the tailgate was located on the side of the parking lot at WHS, not too far from the entrance gate to the football game.
For the second year in a row, patrons were asked for a free-will donation that produced money for the student councils to share equally among themselves. The two student councils will also plan at least one joint event every year to show that, though we are two separate schools, we are one community.