2021-2022 WHS National Honor Society
Welcome to the Wahoo High School National Honor Society!
Welcome to the page of the Wahoo High School National Honor Society. We hope that this page provides you with valuable information about our organization and activities throughout the year. As the year begins, the following information may be valuable. Check back often for updates to membership and important dates. If you have any questions about this page, please contact the adviser, Mr. Clayton Tomjack.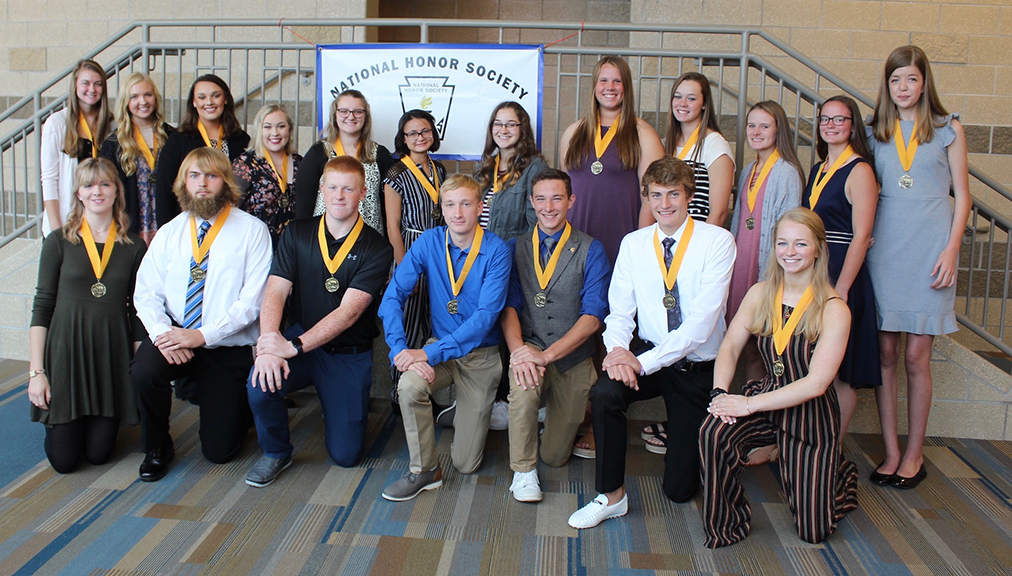 2019-2020 WHS National Honor Society Members, back row (from left): Kelsie Sears, Lauren Kavan, Madison Masek, Olivia Scott, Sydney Stuchlik, Zoe Christenson, Sarah Sutton, Tessa Greenwood, Kharissa Eddie, Alyssa Luedtke, Sara Lindgren, Greeley Hauswald. Front row: Avery Spicka, Gunnar Vanek, Brody Specht, Brett Whitaker, Sam DuBois, Thomas Waido, Jade Andresen.
Officers and Members
President: Gavin Pokorny
Vice-President: Luke Polacek
Service Programs Director: Rebecca Wotipka
Secretary: Katelyn Urban
Treasurer: Nicki Walla
Seniors: Cody Bailey, Mikala Cuda, Mara Dobesh, Maya Foxworthy, Karley Golladay, KaDee Johnson, Hannah Jorgensen, Kylee Kenning, Rylee Koehler, Mya Larson, Kyan Lausterer, Carson Lavaley, Taylor Luben, Caleb Malousek, Gavin Pokorny, Luke Polacek, Jessica Snelling, Josie Sutton, Caden Tingelhoff, Katelyn Urban, Nicki Walla, Rebecca Wotipka
Graduate Members
Sam DuBois, Kharissa Eddie, Tessa Gatewood, Elle Glock, Elizabeth Hatfield, Greeley Hauswald, Lauran Kavan, Mikah Kavan, Sebastian Lausterer, Sara Lindgren, Rachel Loya, Alyssa Luedtke, Jazlyn Nelson, Madison Masek, Olivia Scott, Kelsie Sears, Brody Specht, Avery Spicka, Sydney Stuchlik, Sarah Sutton, Brett Whitaker
Faculty Council Members
Mr. Darold Foster
Mr. Chad Fox
Mrs. Mary Nuckolls
Mrs. Barb Shanahan
Mr. Jason Smith
Adviser: Mr. Clayton Tomjack
2021-12 Dates to Remember
August 20, 2021 - Application Packets due to Mr. Tomjack
September 7, 2021 - Membership Interviews with Faculty Council begin
October 3, 2021 - Induction Ceremony
November 9, 2021 - Red Cross Blood Drive
December 22, 2021 - Fall 2021 service hours due to Mr. Tomjack
January 20, 2022 - Red Cross Blood Drive
April 27, 2022 - Red Cross Blood Drive
May 6, 2022 - Spring 2022 service hours due to Mr. Tomjack
Bylaws
Please click HERE to access the National Honor Society Bylaws (updated 5/1/2016)