WPS mourns the loss of Bob Chvatal to hard-fought cancer battle
WPS Facilities Manager remembered fondly as hard-working family man and friend
WPS Facilities Manager Bob Chvatal
The man could fix anything!
As facilities manager of the Wahoo Public Schools for the past 25+ years, "outsourcing" was not a part of Bob Chvatal's vocabulary.
Plumbing problem? Bob knew how to fix it. Electrical issues? Consider it conquered once Bob found out about it.
"Quality is one word that I think of when I remember Bob," commented WMS/WHS Guidance Counselor John Harris. "Whenever I asked Bob a question, I could count on his answer to be one of quality, not convenience. Similarly, when Bob did work at school or for me personally, the work was always well done. He prided himself on doing a job with quality."
From major HVAC and construction/renovation issues, to snow removal most would think impossible, to less urgent problems like assembling school equipment delivered with countless pieces and assembly instructions written by someone who should not be writing assembly instructions, Bob just had all of the answers.
Sadly, lung cancer was the one problem Bob could not overcome. He was diagnosed late last summer, and for much of the school year many of us have watched in awe as he courageously took on the fight of his life with an impressively strong will and a stubborn dignity.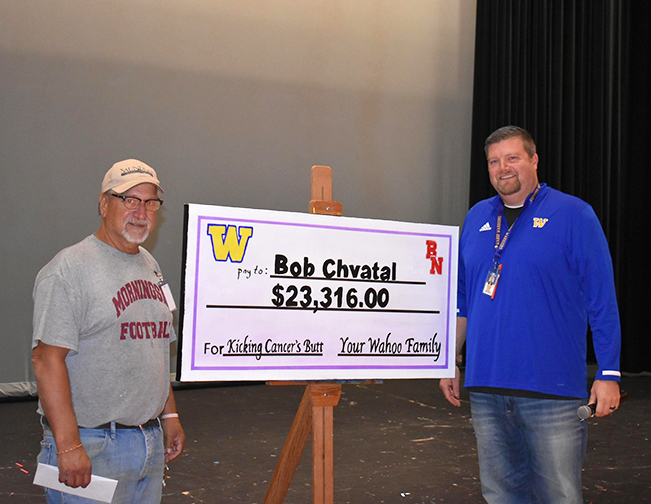 On Thursday, Feb. 27, we all received the heartbreaking news that the fight was over. Bob passed away at Bryan West Medical Center in Lincoln, at the age of 59. He leaves behind a wife and five children, who were his absolute pride and joy. It was clear to anyone who had any rapport with Bob that his family was the most precious thing in his life.
Wahoo Kindergarten Teacher Liz Gregg enjoyed seeing Bob frequently at the elementary, always knowing when he was close by, because of that distinct sound of all of those keys jingling at his side.
"Bob always had a wonderful story to share about one of his kids, as a proud father does," Gregg shared. "One of my favorite school memories of Bob is from a few years back when I was pregnant with one of my daughters. My classroom was extra warm and I couldn't get the temperature down. Bob came into my kindergarten classroom with a ladder, climbed into the ceiling, and had it fixed in no time. I was so thankful, and as I turned towards the kids, I saw that they were in such awe of how he was able to climb into the ceiling! For the rest of the day they continued to talk about how they were going to fix things like Bob when they grew up, and thought he was pretty cool! We are so blessed for all the service Bob provided to Wahoo Public Schools, and he will be greatly missed!"
WHS Business and Technology Teacher Kevin Scheef is a creature of quirky habit. Every morning before school, he stops at Caseys to purchase two cookies and one Mountain Dew. For years, once he arrived at school, Scheef's first stop was the teachers' lounge, where he stored his daily treats in the refrigerator until he needed a snack later in the day. A couple years ago, those treats began to mysteriously disappear from the teachers' lounge refrigerator. More and more frequently, Scheef would go to retrieve his daily snack, only to be met with disappointment.
Bob came to the rescue, and designed a lock box for Scheef's classroom, with the blunt printed warning: "Cookie Box. Private Property--Keep Out!" It was an effective way to keep Scheef's cookies safe from the sticky fingers of resident kleptomaniacs, and Bob laughed the entire time he was mounting that box to the wall!
While Bob always went above and beyond to solve all problems big and small, and would give you the shirt off his back if you needed it, he also had his pet peeves, and had no problem reminding anyone of the way things should be! WHS Paraprofessional Judi Storm and WHS Government Teacher Caleb Grummert have fond first-hand memories of that. Storm found out the hard way that sitting on top of the cafeteria tables simply was not something Bob was willing to witness without comment (it's important to be a better example for the kids!). Likewise, if you had students creating Close Up Turkey Dinner signs/posters in the cafeteria, you made darn sure they didn't leave any paint on the floor, because make no mistake: Bob was going to inform you of the indiscretion.
These are just a few examples of countless fond memories that the staff members of Wahoo Public Schools, past and present, will embrace as we begin to mourn the sudden loss of our co-worker and friend.
All services will be held at St. Wenceslaus Catholic Church in Wahoo. Visitation is Monday, March 2 from 5:00-7:00 p.m., followed by a Rosary at 7:00 p.m. Funeral will be Tuesday, March 3 at 10:00 a.m., followed by interment at St. Francis Cemetery in Wahoo.
Please click HERE to read Bob's obituary on the Svoboda Funeral Home website.
Bob Chvatal has made the Wahoo Public Schools a better place, and those of us who knew Bob are blessed to have had him in our lives. He will be missed.
WPS mourns the loss of Bob Chvatal to hard-fought cancer battle
John and Rhonda

Nelson Mo.

Construction Inspector and Director of Logistics

Mar 10, 2020

Thank you for sharing your thoughts and wonderful stories of our Brother in law Bob. It is really special to see a town come together with the support for my sister Missy, her children and family. Thanks so much! John and Rhonda Sprigg

Virginia Sprigg

Marshall, Missouri

Retired - Missouri State Licensed Clinical Social Worker

Mar 15, 2020

Thank you to Wahoo Public Schools for the kind tribute and benefit held last October. My son, John and I were present for the event and were very impressed with the turn-out that came to support Bob in his fight to overcome cancer. Thank you also to St. Wenceslaus Parish and School for pairing with the Public School to do the Benefit. Never have I witnessed anything quite like the caring people in this town of Wahoo. The Visitation and Funeral witnessed how much people thought of Bob. My daughter, Missy, will certainly need many caring people in the days, months and years to come and I am assured she will find them in the town of Wahoo, more particularly both schools. God Bless you!