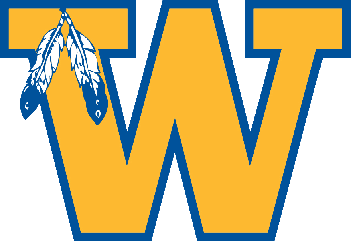 2019-2020 WMS High Honor Roll & Honor Roll
End-of-year awards ceremony video also posted
2019-20 MIDDLE SCHOOL END OF THE YEAR AWARDS CEREMONY
Due to the COVID-19 school closure, we were unable to celebrate and acknowledge various academic achievements at Wahoo Middle School for the 2019-20 school year. We wanted to make sure that middle school students were also celebrated for their outstanding academic achievements for the school year by presenting this video honoring the following:
• 3rd Quarter Honor Roll (Posted below)
• 3rd Quarter High Honor Roll (Posted below)
• U.S. Presidential Awards (Student Achievement & Excellence Awards)
• Middle School Wall of Honor Recipients (8th Grade Students)
There are also a number of awards that are presented during this ceremony that focus on school attendance, activities, and athletics that will unfortunately not be given out due to the closure. School attendance and participation in activities is a very important part of what makes our school special. Students' hard work in the classroom is a direct reflection on these areas and why these awards will continue to be acknowledged in future years.
On behalf of all the Wahoo Middle School Staff, congratulations to all of our students on their outstanding efforts this school year. Have a great summer and be safe!
Marc Kaminski
Wahoo Middle School Principal
Congratulations to the following Wahoo Middle School students for making the High Honor Roll and Honor Roll during 2019-2020 (Note: due to the COVID-19 school closure, no 4th quarter honor rolls are posted):
THIRD QUARTER
High Honor Roll (3.92-4.0 GPA):
8th Grade: Kyle Babst, Kassidy Beavers, Trevor Beavers, Michael Carranza, Sam Edmonds, Nathan Eriksen, Marcus Glock, Eli Hauswald, Hannah Herrera, Lanta Hitz, Ava Lausterer, Barrett Lavaley, Jase Maly, Seth Obert, Caitlin Olson, Carlee Robichaud, Anthony Rowe, Jonas Schnakenberg, Sidney Smart, Kiah Smith, Jesse Stebbing, Teagan Watts
7th Grade: Patrik Adamec, Mackenzie Chadwell, Adelia Dunlap, Alicia Foster, Abigail Johnson, Chloe Kasischke, Miranda Keller, Sawyer Lavaley, Samuel Marxsen, Graham Nutzman, Karina Raney, Wyatt Rezek, Gaia Rodgers-Norris, Caden Smart, Isabel Smith, Madelyn Snyder, Mollie Urban, Nathan Urban, Delaney Wusk
6th Grade: Calvin Babst, Elizabeth Brennan, Kip Brigham, Kaden Christen, Hannah Girmus, Cody Hesser, Jase Kaminski, Harrison Krueger, Jack Krueger, Joselyn Larson, Gracie Peterson, Sophia Rafteseth, Tenley Watts
Honor Roll (3.5-3.91 GPA):
8th Grade: Kolby Arehart, Cadence Bailar, Nadia Baker, Kade Cook, Josh Edmonds, Kyler Elliott, Brailey Gronenthal, Gabriel Harris, Lillian Harris, Derek Mathis, Sydney Needham, Barrett Nelson, Samantha Norris, Lily Rafteseth, Gabrielle Raney, Mason Rodgers, McKenna Sabatka, Arlan Scott, Makenzie Sutton, Miranda Vanek, Paige Williams
7th Grade: Ales Adamec, Danielle Baker, Nash Beasley, Alexander Borchers, Landon Brigham, Trevor Cerveny, Austin Clemon, Gage Cooney, Kaydence Decker, Madden Dwerlkotte, Elijah Emerson, Anica Gannon, Jaymes Gaskins, Jessi Hasenkamp, Alyssa Havlovic, Connor Herndon, Braylon Iversen, Logan Kleffner, Kristen Mika, Hayden Nelson, Hailey Pfligler, Dylan Simons, Marshall Strom, Riley Swanson, Noah Taylor, Chrisalynn, Vice, Audrey Waido, Saronna Wigfall
6th Grade: Faith Davis, Aubrey Fingerhut, Callen Fischer, Joshua Fox, Lea Govind, Lauryn Hallowell, Blake Hitz, Alexis Jonas, Henry Lauck V, Grady Meyer, Brianna Morales, William Mortensen, Daniel Oehm, Cash Parson, Elijah Polacek, Cameryn Sather, Clara Sherman, Jayse Styskal, Parker Thompson, Hunter Williams
SECOND QUARTER
High Honor Roll (3.92-4.0 GPA):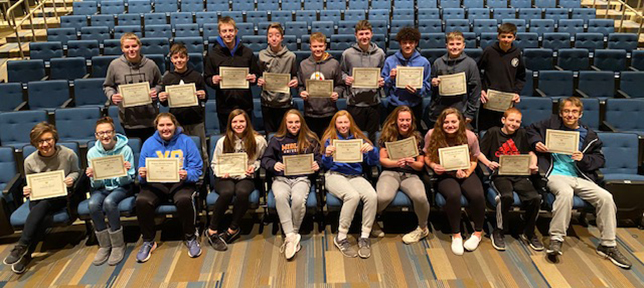 8th Grade: Kyle Babst, Kassidy Beavers, Trevor Beavers, Sam Edmonds, Kyler Elliott, Marcus Glock, Lillian Harris, Eli Hauswald, Hannah Herrera, Lanta Hitz, Ava Lausterer, Barrett Lavaley, Jase Maly, Derek Mathis, Samantha Norris, Seth Obert, Gabrielle Raney, Jonas Schnakenberg, Sidney Smart, Kiah Smith, Jesse Stebbing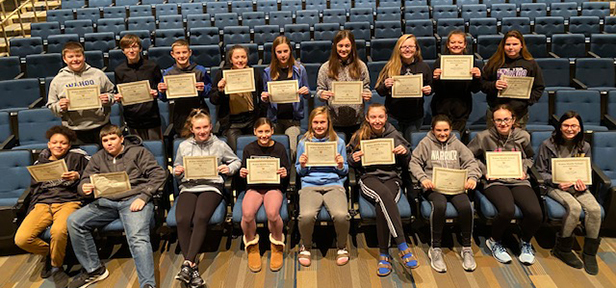 7th Grade: Patrik Adamec, Landon Brigham, Adelia Dunlap, Alicia Foster, Jaymes Gaskins, Alyssa Havlovic, Abigail Johnson, Chloe Kasischke, Miranda Keller, Sawyer Lavaley, Hailey Pfligler, Karina Raney, Gaia Rodgers-Norris, Caden Smart, Isabel Smith, Madelyn Snyder, Mollie Urban, Nathan Urban, Delaney Wusk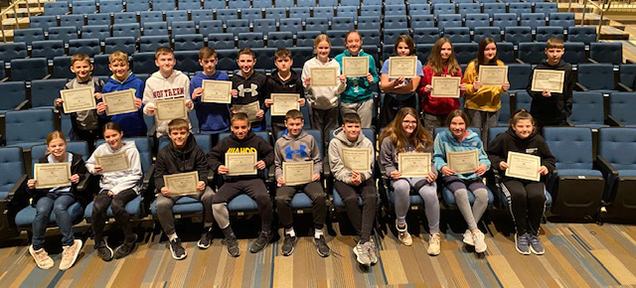 6th Grade: Calvin Babst, Elizabeth Brennan, Kip Brigham, Kaden Christen, Callen Fischer, Hannah Girmus, Lauryn Hallowell, Cody Hesser, Blake Hitz, Alexis Jonas, Jase Kaminski, Harrison Krueger, Jack Krueger, Joselyn Larson, Grady Meyer, Gracie Peterson, Elijah Polacek, Sophia Rafteseth, Cameryn Sather, Jayse Styskal, Tenley Watts
Honor Roll (3.5-3.91 GPA):
8th Grade: Kolby Arehart, Cadence Bailar, Nadia Baker, Riley Beck, Keegan Brigham, Drake Carlso, Michael Carranza, Kade Cook, Josh Edmonds, Nathan Eriksen, Michael Evans, Lukus Forbes, Isaiah Foster, Brailey Gronenthal, Gabriel Harris, Riley Herndon, Pheonix Jensen, Sophia Klein, Jillian Krivanek, Emma Lowther, Barrett Nelson, Lilly Obert, Caitlin Olson, Lily Rafteseth, Carlee Robichaud, Mason Rodgers, Anthony Rowe, McKenna Sabatka, Arlan Scott, Makenzie Sutton, Miranda Vanek, Teagan Watts, Paige Williams
7th Grade: Ales Adamec, Danielle Baker, Nash Beasley, Alexander Borchers, Trevor Cerveny, Mackenzie Chadwell, Austin Clemon, Gage Cooney, Grove Dalton IV, Kaydence Decker, Madden Dwerlkotte, Elijah Emerson, Logan Fittro, Tyler Fuller Anica Gannon, Madison Hajek, Jessi Hasenkamp, Connor Herndon, Braylon Iversen, Christopher Johnson, Logan Kleffner, Samuel Marxsen, Davian McClain, Kristen Mika, Hayden Nelson, Graham Nutzman, Wyatt Rezek, Jacob Scanlon, Dylan Simons, Marshall Strom, Riley Swanson, Noah Taylor, Chrisalynn, Vice, Audrey Waido, Saronna Wigfall
6th Grade: Addison Bohaty, Jacie Brabec, Faith Davis, Hannah Elliott, Aubrey Fingerhut, Joshua Fox, Lea Govind, Addysen Hancock, Zayne Keslar, Kenzie Koranda, Dominic Kruse, Henry Lauck V, Bailey Lofgren, Brianna Morales, William Mortensen, Kadence Nelson, Reed Nisley, Cash Parson, Jeramiah Phelps, Roselynn Pokorny, Noah Rodgers, Eli Shada, Clara Sherman, Rachel Stevens, Lacy Sutton, Parker Thompson, Hunter Williams, Emma Wood, Maylee Zheng
FIRST QUARTER
High Honor Roll (3.92-4.0 GPA):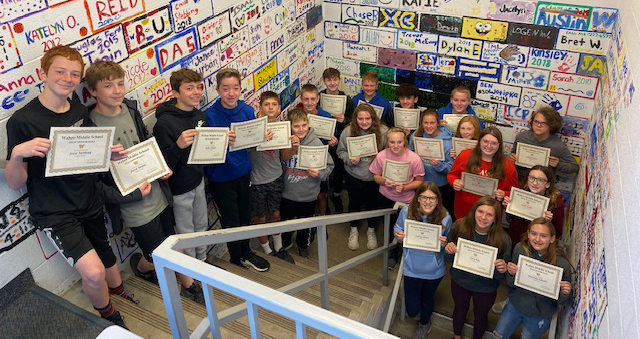 8th Grade – Kyle Babst, Cadence Bailar, Kassidy Beavers, Trevor Beavers, Sam Edmonds, Kyler Elliott, Marcus Glock, Lilly Harris, Eli Hauswald, Hannah Herrera, Lanta Hitz, Ava Lausterer, Barrett Lavaley, Jase Maly, Derek Mathis, Samantha Norris, Anthony Rowe, McKenna Sabatka, Jonas Schnakenberg, Sidney Smart, Kiah Smith, Jesse Stebbing

7th Grade – Ales Adamec, Patrik Adamec, Landon Brigham, Adelia Dunlap, Alicia Foster, Abi Johnson, Chloe Kasischke, Miranda Keller, Sawyer Lavaley, Karina Raney, Wyatt Rezek, Gaia Rodgers-Norris, Dylan Simons, Caden Smart, Isabel Smith, Madelyn Snyder, Nathan Urban, Delaney Wusk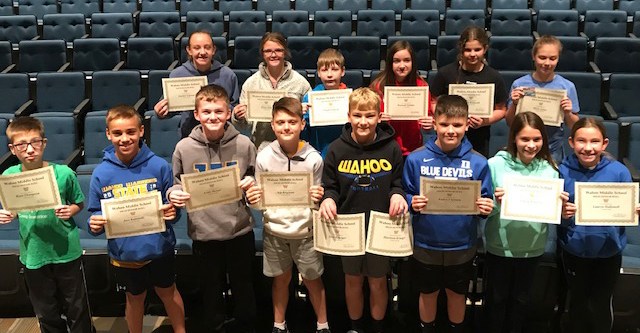 6th Grade – Elizabeth Brennan, Kip Brigham, Kaden Christen, Hannah Girmus, Lauryn Hallowell, Cody Hesser, Blake Hitz, Alexis Jonas, Jase Kaminski, Harrison Krueger, Jack Krueger, Joselyn Larson, Will Mortensen, Gracie Peterson, Elijah Polacek, Sophia Rafteseth, Parker Thompson
Honor Roll (3.5-3.91 GPA)
8th Grade – Kolby Arehart, Keegan Brigham, Michael Carranza, Kaley Castillo, Kade Cook, Josh Edmonds, Nathan Eriksen, Michael Evans, Brailey Gronenthal, Gabe Harris, Riley Herndon, Sophia Klein, Emma Lowther, Barrett Nelson, Seth Obert, Caitlin Olson, Lily Rafteseth, Gabrielle Raney, Mason Rodgers, AJ Scott, Makenzie Sutton Miranda Vanek, Kylie Warford, Teagan Watts, Paige Williams
7th Grade – Danielle Baker, Nash Beasley, Alex Borchers, Mackenzie Chadwell, Austin Clemon, Gage Cooney, Kaydence Decker, Madden Dwerlkotte, Elijah Emerson, Tyler Fuller, Anica Gannon, Jaymes Gaskins, Kaitlyn Hajek, Madison Hajek, Jessi Hasenkamp, Alyssa Havlovic, Kaitlinn Henderson, Connor Herndon, Braylon Iversen, Christopher, Johnson, Logan Kleffner, Sam Marxsen, Kristen Mika, Hayden Nelson, Graham Nutzman, Hailey Pfligler, Marshall Strom, Kendra Swahn, Riley Swanson, Noah Taylor, Mollie Urban Chrisalynn Vice, Audrey Waido, Saronna Wigfall
6th Grade – Calvin Babst, Faith Davis, Madison Decker, Hannah Elliott, Vanden Fancher, Aubrey Fingerhut, Callen Fischer, Josh Fox, Lea Govind, Zayne Keslar, Dominic Kruse, Henry Lauck, Bailey Lofgren, Grady Meyer, Brianna Morales, Christian Nelson, Reed Nisley, Cash Parson, Chase Peterson, Tailan Roberts, Cameryn Sather, Eli Shada Clara Sherman, Rachel Stevens, Jayse Styskal, Lacy Sutton, Tenley Watts, Hunter Williams