WPS mourns the loss of Kim Brigham to hard-fought cancer battle
WMS/WHS Art Teacher remembered as passionate educator and friend; leaves legacy of fighting adversity with 'perseverance, grit, and grace'
There was a quiet, fun-loving grace about Wahoo Middle/High School Art Teacher Kim Brigham.
"It is safe to say that I wouldn't be where I am today without the role Mrs. Brigham played in my education," reflected Ben Grandgenett, a 2008 Wahoo High School graduate.
In the classroom, Mrs. Brigham was as even-keeled as they come. She shared her artistic talents, effectively brought out the best skills in her students, and taught them the importance of art, and also the potential it has to enhance their lives.
On the athletic court or field, though, we all smiled as Mrs. Brigham pushed aside that calm demeanor, and cheered on her team as passionately as anyone!
Today we mourn her loss.
Brigham passed away today (Thursday, June 14, 2018) after a lengthy, hard-fought battle with cancer.
She graduated from Wahoo High School in 1988 and later taught in the Wahoo Public Schools district from 2005 to 2018.
"I entered her art class as a sophomore, and in it found respite from my other classes," Grandgenett, now the deputy art director at the New York Times Magazine, added. "I remember Mrs. Brigham as a laid back and self-assured instructor; ever encouraging and rarely seen without a smile on her face. Her class was the best part of my day. She made art accessible and provided a place for students to be themselves through their work. The joy I found in her class inspired me to continue on trying to make a career for myself as a graphic designer. Perhaps, even today, I'm still chasing the same wondrous feeling I had sitting in her class that first year she had me put pencil to paper and take a look at the world around me. I will always be grateful for having known such a person as her. Thank you, Mrs. Brigham."
In addition to teaching middle and high school art classes, Kim was a track coach.
Brigham and her husband Rob (a WPS Board of Education member) were fixtures at Wahoo High School sporting events, cheering on their children Bailey, a 2015 WHS graduate, and Corby, a 2017 WHS graduate. In addition to Bailey and Corby, the Brighams have three children currently enrolled at WPS: 11th grader Kendal, 7th grader Keegan, and 5th grader Kip. Kim's parents, John and Mary Horsham, were also long-time teachers in the Wahoo Public School system.
"Mrs. Brigham has been a pillar at Wahoo Public Schools and in the Wahoo community for many years," stated WPS Superintendent Brandon Lavaley. "She exhibited the spirit for which she came to be known in her courageous battle against cancer. Our hearts go out to her family, and the school district and community will rally around them during this difficult time."
"Kim was a great teacher and an even better person," commented former Wahoo High School Principal Jason Libal. "She brought an extraordinary amount of energy, passion, and knowledge to her classroom and content area. I so greatly appreciated the excellence and quality of the work completed by her students. This reflected the incredibly positive and productive learning environment that she created for ALL students. Not only was Kim a great teacher, she was also a great coach. She was viewed as a mentor and 'go-to person' by her student-athletes. Kim will be so dearly missed by all, as she made a profound and positive impact on those around her. I am so very thankful for the opportunity to work with Kim."
Educators understand the importance of those life lessons which occur outside textbooks and curriculum. Mrs. Brigham and her family modeled one of those lessons with the manner in which they faced this life-changing crisis.
"After her diagnosis, there was nothing more inspiring than walking by Kim Brigham's classroom and seeing her hard at work every day," said WHS Language Arts Instructor Nicole Burg. "To know that this brave woman, who was facing the toughest battle of her life, made a conscious choice every day to get out of bed and go spend her day teaching kids was humbling beyond words. The lessons she taught every single person in our school community about perseverance, grit, and grace are more important than anything any of us could learn in any textbook. Kim was truly a Warrior in every sense of the word and I am so lucky to have called her my friend."
Please click HERE to access Mrs. Brigham's obituary. The visitation is scheduled for Sunday, June 17 from 3:00-7:00 p.m. at the First Presbyterian Church in Wahoo (981 W. 15th Street). The funeral service will be on Monday, June 18 at 10:30 a.m., also at First Presbyterian Church. Burial will follow at Sunrise Cemetery.
There is no doubt: Mrs. Brigham has left her mark on this school and community, and she leaves us with plenty of reasons to remember her fondly. The students, staff, and administration of WPS will miss her, and to the Brigham and Horsham families, we all send our love, prayers, and best wishes for peace and comfort during this time.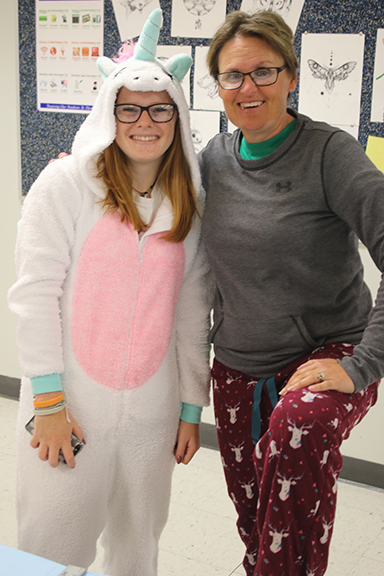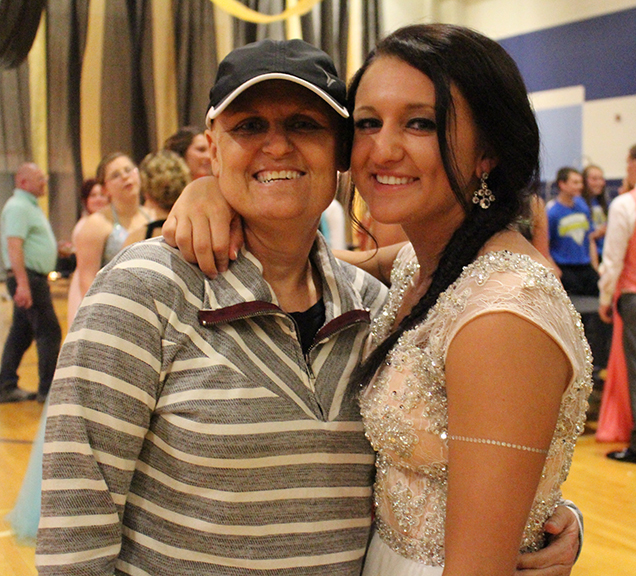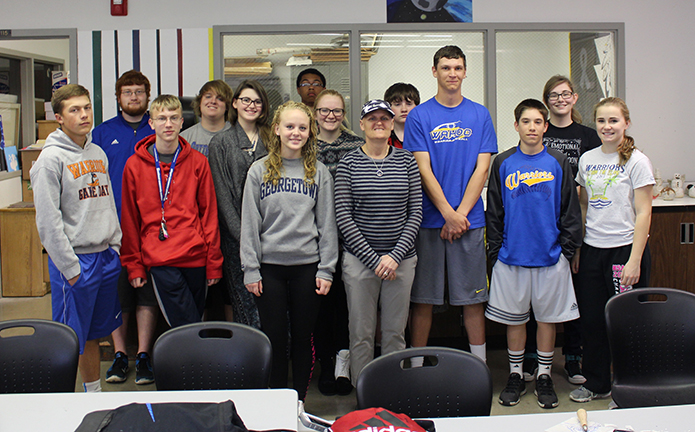 Above photos courtesy of Nicole Burg