5th Graders Experience New Drawing Technique in Art
Students Attempt to Emulate Style of George Bellows
Wahoo Elementary 5th Graders
Wahoo Elementary fifth grade students experienced drawing from a new angle last week.
Students were introduced to examples of artwork from Ashcan School artist George Bellows (1882-1925). His depictions of American life from the 10's and 20's are famous for showing the gritty reality of the city.
As baseball player and boxing fan, he spent much of his free time taking in sporting events in New York City. Some of his most famous work is a collection of oil paintings depicting boxing matches he attended.
After discussing these images, students had to brainstorm ways in which they could capture a moment during a sporting event without a camera. One way artists can capture motion is by using gesture drawings. Gesture drawings are quick sketches of people in motion, with little concern for details.
Students then had the opportunity to try out this new drawing technique outside on the playground. A handful of lucky 5th graders took turns striking athletic poses for their classmates to draw. Each time a new model posed, the drawings were done more and more quickly. The drawings were fast and furious, and captured the spirit of motion!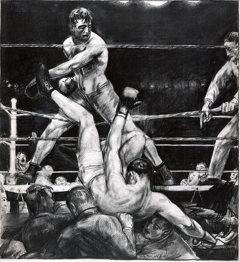 Dempsey Through the Ropes
George Wesely Bellows
Lithographic crayon on paper, 1923
Image Courtesy of the Metropolitan Museum of Art