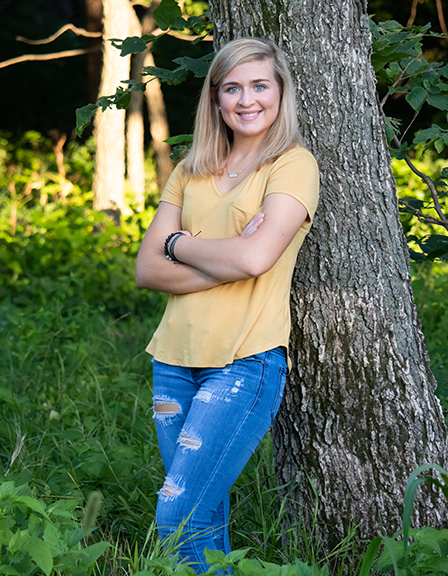 Congratulations WHS senior Anna Dobesh on being named a 2018-2019 National Merit Scholarship Semifinalist!
Anna Dobesh named a National Merit Scholarship Semifinalist!
WHS senior listed among nation's academic elite; advances to finalist competition
Officials of the National Merit Scholarship Corporation (NMSC) announced the names of approximately 16,000 Semifinalists in the 64th annual National Merit Scholarship Program. These academically talented high school seniors have an opportunity to continue in the competition for some 7,500 National Merit Scholarships worth more than $32 million that will be offered in the spring of 2019.
Wahoo High School senior Anna Dobesh has been named a National Merit Scholarship Semifinalist. The nationwide pool of Semifinalists, representing less than one percent of U.S. high school seniors, includes the highest scoring entrants in each state.
About 1.6 million juniors in more than 22,000 high schools entered the 2018 National Merit Scholarship Program by taking the 2017 Preliminary SAT/National Merit Scholarship Qualifying Test (PSAT/NMSQT®), which served as an initial screen of program entrants. From the approximately 16,000 nationwide Semifinalists, about 15,000 are expected to advance to the Finalist level; in February of 2019, they will be notified of this designation. The next step for Dobesh is to complete the SAT. Depending upon her score, she may qualify to be named a Finalist.
"This marks the second year in a row that a Wahoo High School student has been named a National Merit Scholarship Semifinalist," WPS Counselor John Harris remarked. "Caleb Groff was a semifinalist in 2018. We are very proud of the academic achievements of these students and wish Anna the best on the SAT!"
NMSC, a not-for-profit organization that operates without government assistance, was established in 1955 specifically to conduct the annual National Merit Scholarship Program. Scholarships are underwritten by NMSC with its own funds and by approximately 420 business organizations and higher education institutions that share NMSC's goals of honoring the nation's scholastic champions and encouraging the pursuit of academic excellence.
"Being a National Merit Semifinalist may open some doors for me, especially now that I'm looking at where I want to go to school," Dobesh commented. "I look forward to continuing in the competition, and I'm proud to represent Wahoo High School."
Congratulations Anna on this impressive achievement, and good luck in the finalist competition!