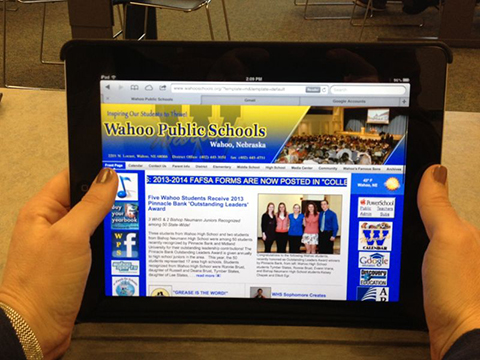 Frequently Asked Questions
Wahoo Public Schools 1:1 iPad Initiative
Questions/comments pertaining to the 1:1 iPad Initiative should be directed to Wahoo Middle School Principal Marc Kaminski (443-3101, e-mail: mkaminski@wahoowarriors.org) or Wahoo High School Principal Jarred Royal (443-4332, e-mail: jroyal@wahoowarriors.org).
What are the actual goals for implementing the 1:1 initiative at Wahoo Public Schools?
The 1:1 iPad initiative allows several things to occur for the benefit of student learning, including:
•Promoting student engagement and enthusiasm for learning.
•Encouraging collaboration among students, teachers, parents, community members, and people throughout the nation and world through interactive capabilities and opportunities.
•Reducing the use of worksheets and workbooks.
•Guiding students in their learning and production of knowledge.
•Allowing students access to information, along with an opportunity to connect it to their learning in a meaningful manner.
• Teaching responsible digital citizenship.
Do students own the iPad?
The students are renting the iPad from the Wahoo Public School District and thus, the iPad is District property.
What is the user fee for an iPad?
The iPad user fee for your student is $35. This $35 can be paid at the Parent Informational Meeting. This cost must be paid before a student can receive an iPad.
What if parents choose not to participate in the 1:1 initiative?
All our 7-12 grade students will need access to an iPad during the school day. A student whose family chooses not to participate in the initiative or pay the $35 user fee will have access to an iPad or a laptop computer during the day but will not be allowed to take the device home. These students must report to the high school media center to check out an iPad. All iPads that have been checked out must then be returned to the High School Media Center by 3:30 p.m. that same day.
What iPad and accessories will all students be receiving?
Students will be receiving an iPad 4, charger cord and a protective case. All three of these items will be assigned to each student and will need to be returned and checked in at the end of the school year. Failure to return any of these items may result in the student being billed the full cost of the missing item.
What happens if a student forgets their iPad at home?
Students who accidentally leave their iPads at home may have access to a limited amount of iPads (checkouts) that are available in the Media Center. Students will be able to "sign in" to their account but would not be able to take this iPad home with them.
Will students be able to take their iPad home?
Students may take their issued iPad home, as long as their parents have completed the necessary training, signed the necessary forms and paid the $35 user fee.
Can students change the outward appearance of their iPad?
Students are not allowed to do anything to the iPad that permanently alters it in any way. A snap-on, protective cover that fit the iPad will be part of the school issued equipment. This cover must be used at all times; students may not purchase their own cover for the iPad.
Will students have to turn in their iPad at the end of the school year?
Students are responsible for returning their iPad 4, charger cord and a protective case at the end of each school year. They will receive the same iPad and equipment back at the start of the next school year.
Can students bring their own iPad rather than using one provided for them?
Students are not allowed to bring their own iPads from home to use. iPads at Wahoo Public Schools are all formatted with the same basic programs and structures. In addition, students will need to have access to our district server, and this configuration will only be available on school issued machines.
Will these iPads replace traditional textbooks?
The iPad is not a replacement but an extra tool for education. Teachers will be integrating electronic elements into traditional classes, using technology for instruction and assessment, but we are not replacing traditional education with iPads. Hard copies of textbooks will be available for use in most classrooms.
Will the school have expanded access for students without home Internet access?
The Middle and High Schools commons areas will be open for the students from 7:00 a.m. to 5:00 p.m.
Can students access the Internet at home using their own Internet provider?
Students may easily connect to any WiFi system.
Where should students store their iPads when they are not in class (PE, lunch, practice, etc.)?
Students need to keep their iPad in a secured location at all times when unsupervised. The best choice students can make is to lock their iPad in their locker (using a combination lock). The locked trunk of a car would be an acceptable storage place as long as it's not excessively hot or cold.
If on an athletic team, never leave iPads in school vehicles, in the gym, in a locker room, on a playing field or in other areas where it could be damaged or stolen. iPads left in bags in unattended classrooms or other areas considered "unattended" will be confiscated by faculty or staff as a protection against theft. If confiscated, the student will receive a warning before getting the iPad back. If the iPad is confiscated a second time, the student may be required to get a parent signature acknowledging financial responsibility before getting the iPad back, along with other potential appropriate consequences.
Will student Internet access be filtered outside of school?
Internet access on the school issued iPads will continue to be filtered by the school's website filtering software even when the iPad is connected to the Internet outside of school.
What if an iPad is lost, stolen or broken?
If an iPad is lost or stolen, the student will be financially responsible for its replacement. If an iPad is stolen or vandalized, the parent shall file a police report. A student who does not have an iPad due to the iPad being damaged accidentally will be allowed to use an iPad from school. These checkout iPads will be available for students to use during the time of repair. A student who does not have an iPad due to the iPad being damaged intentionally may be allowed to checkout a school-owned iPad only if there is one available. The student will not be allowed to take that iPad home.