K-12 Geography Resources


CultureGrams
(See Mr. Privett for user name and password)
Concise, reliable, and up-to-date country reports delivering the world . . . to you. CultureGrams helps students discover the world with concise cultural and statistical snapshots of every country recognized by the United Nations -- from Afghanistan to Zimbabwe. Local experts document the unique, intimate details of each country's customs, traditions and daily life. And whether it's Iraq, Canada, or Kenya, each CultureGram offers an equality of coverage detailing 25 different aspects of the country and its culture.
-------------------------


Online Blank Maps
A great site for geography teachers! All the blank maps you could want in one place. Outline maps, state maps, foreign country maps and hundreds of detailed or blank maps in PDF and GIF formats. A PowerPoint world map is available also.
-------------------------


50 States
Information is well organized and in alphabetical order using key words such as state bird, state flower, etc. Easy to use and elementary student friendly.
-------------------------


Global Gateway (Maintained by the U.S. Library of Congress)
From here, you can link to 'Portals of the World' where students are presented with a list of more than 175 countries. The links for each country have been selected by area specialists and other Library of Congress staff to provide authoritative and in-depth information about the countries.
-------------------------


National Geographic's Travel & Cultures
A very impressive web site with tons of information and photos from every continent, country and city.
-------------------------


Nationmaster.com (Target: High School)
Welcome to NationMaster, a massive central data source and a handy way to graphically compare nations. NationMaster is a vast compilation of data from such sources as the CIA World Factbook, UN, and OECD. We want to be the web's one-stop resource for country statistics on everything from soldiers to wall plug voltages.You can also view profiles of individual countries including their maps and flags, use correlation reports and scatterplots to find relationships between variables, and refer to fully integrated encyclopedia with over one million articles.
-------------------------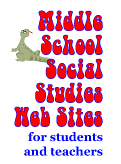 Middle School Sites
Geography, world cultures, social studies, economics, and civics lessons and web resources for middle school students and teachers.
-------------------------


Sheppard Software
Links to numerous interactive games for U.S. and World Geography, as well as numerous other subjects. Targeted to elementary and middle school students.From their web site: "We design educational software and online games with these goals: 1) To add sound and visual effects to make learning fun and more memorable. 2) To design games with many difficulty levels so that players will continue to be challenged no matter how far they progress. 3) To provide games that will exercise players' brains."
-------------------------


worldatlas.com
Explore your world!
-------------------------


The World Factbook (Maintained by the U.S. Central Intelligence Agency [CIA])
This is an easy-to-use almanac that is published by the CIA, offering detailed information on all the world's geographic and political entities. A great resource for study on foreign countries and governments.