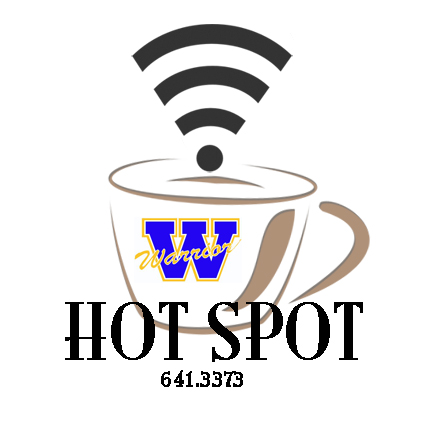 MS/HS Library opens Warrior 'Hot Spot'
Staff & students invited to enjoy a hot drink while studying
As the old saying goes, you can't buy happiness, but at the Wahoo Middle/High School Library, you can now buy coffee, and that's pretty close!
The library now offers two "hot spots" to students and staff: our usual access to the district's wireless network, and now access to a new Keurig hot beverage maker.
This service is available before school and throughout the school day. For $1.00, students are invited to enjoy a hot drink while reading or studying. Currently available are a variety of coffees, hot chocolate, apple cider and café mocha. All drinks must be consumed in the library.
The Warrior Hot Spot made its debut on Mon., Nov. 24, and has already put a smile on the faces of a lot of students!
"I love it! It's the best thing the school has ever done!" exclaimed WHS senior Janae Pearson.
A special thank you to WMS Principal John Harris and WHS Principal Jason Libal for their approval of this new initiative.
So come spend some time at the library! Drink a cup of coffee while reading the newspaper . . . enjoy some hot chocolate while you're reading that Golden Sower title . . . soothe your soul with some hot apple cider while you're studying for that next math test!