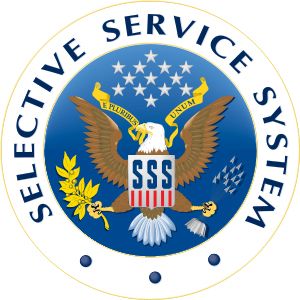 U.S. Selective Service Registration
What is Selective Service Registration?
Registration is the process by which the U.S. Government collects names and addresses of men age 18-25 to use in case of a national emergency, determined by Congress and the President, which would require rapid expansion of the Armed Forces. Men are required to register within 30 days of their 18th birthday. Once men reach their 26th birthday, they can no longer register, as stated in the Military Selective Service Act.
What Happens If I Don't Register?
Not registering is a felony. Young men prosecuted and convicted of failure to register, may be fined up to $250,000, imprisoned for up to five years, or both. Failure to register also may cause men to permanently lose eligibility for student financial aid, government employment, job training, and U.S. citizenship for male immigrants.
Who Must Register?
Male U.S. citizens and immigrants, documented and undocumented, residing in the U.S. and its territories must register if they are age 18‐25.
How Do I Register?
Register online at www.sss.gov, or go to your local post office and request a Selective Service Registration form.
What About After I Register?
You should receive a Selective Service Acknowledgment with your Selective Service Number. Keep your acknowledgment in a safe place for future reference. You can also verify your Selective Service Number by going to www.sss.gov to "Check a Registration". If you move, you are required by Federal law to provide address changes to Selective Service, which can be done at www.sss.gov to "report a Change of Address Online", or by filling out and mailing a SSS Form 2 (Change of Information) at the post office.
Please click HERE to read further information about what you need to know about registering with Selective Service.