Accelerated Reader/Math
The Accelerated Reader program is used for all students enrolled at Wahoo Elementary School. Accelerated Math is utilized at Wahoo Middle and High School.
Students/Staff/Parents: Click HERE to access both Accelerated Reader and Accelerated Math.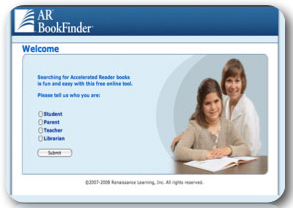 Need to know if your book is an AR book? Check out AR BookFinder, a database listing of all AR books. Simply search by title, author, subject, etc. (just like the electronic library catalog), and AR BookFinder will tell you whether or not your book is an AR book, along with the reading level, point value, word count, etc.
If you have any questions/concerns about this service, or to have a password set up for you, please contact WPS Media Director Dave Privett at 402-443-4332 ext. 3232.