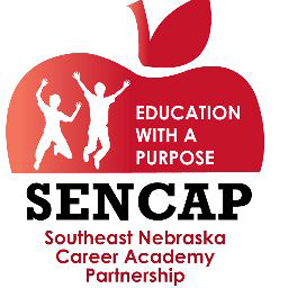 Career Academy Option for 2018-2019
Spring 2019 Registration Deadline: Friday, October 26
NOTE: If you have any questions or would like to enroll in the Career Academy program, please contact WHS Guidance Counselor John Harris (443-4332 ext. 3229).
Career Academy is a partnership program with Southeast Community College and high schools in the same area. The Southeast Nebraska Career Academy Partnership (SENCAP) program provides students with more opportunities to learn about careers and to earn college credit while still in high school.
Opportunities provided by SENCAP include: reimbursed college tuition; career training; networking with students from other schools; job shadowing opportunities; exciting field trips; many "hands on" experiences and much more.
The classes are college level course work and are for college credit. Students complete a portfolio which also allows them to receive high school credit, hence this is a DUAL credit option since credit is offered for both college and high school credit.
SENCAP pays half the tuition and Wahoo High School will pay for the other half. PLEASE NOTE: If a student fails to pass the high school and college portions of a course with a grade of "C" or better, parent/guardians will be responsible for reimbursing both SCC and Wahoo High School for all tuition paid.
Students are also responsible for the cost of their books and all fees, which are not reimbursed under any circumstances by Wahoo High School.
The Career Academy Program for 2018-2019 is open for all juniors and seniors who meet WHS Distance Learning and the Career Academy's SCC academic requirements.
FINANCIAL AID IS AVAILABLE FOR THESE COURSES. Nebraska's Coordinating Commission for Post-Secondary Education offers Access College Early (ACE) Scholarships, which pays tuition and mandatory fees for qualified, low-income high school students to enroll in college courses from Nebraska's colleges or universities. For more information about financial aid, contact WHS Counselor John Harris or WHS Principal Jarred Royal. Students who obtain a scholarship for these courses are expected to complete the courses with a grade of 'C' or better. Students with scholarships who achieve a grade lower than 'C' will be required to reimburse the original scholarship amount to the district.
PLEASE NOTE: Any student registering for a dual/SENCAP course, then transferring out of the Wahoo Public Schools District will be immediately billed full tuition for any dual/SENCAP course(s) in which the student is enrolled. Full payment must be made prior to check out from Wahoo Public Schools. Students will have a W/F (Withdrawal/Fail) on college and WHS transcripts.
Information Guide
Please click HERE to access the 2018-2019 Career Academy Information Guide. (Please read this document carefully. It provides a comprehensive overview of the SENCAP Career Academy program, including course offerings and descriptions.)
Request Form
Click HERE to access the Spring 2019 WHS Dual Credit/SENCAP Career Academy Request Form.
(Printed forms are also available in the high school office and the high school library. Completed forms are due back to Mr. Harris by Friday, October 26, 2018)
The HUB
Please click HERE for Information about logging into The HUB (SCC's Classroom Management System, where students can access their courses, grades, college transcripts, and student account information.)
Tuition & Fees
Please click HERE to view the 2018-2019 SCC Tuition & Fee Schedule.
Calendar
Please click HERE to view the 2018-2019 SCC SENCAP Calendar.
Textbooks
Students taking SENCAP courses will be required to purchase their own textbooks. A full list of required textbooks is posted on the Southeast Community College Bookstore website: www.sccbookstore.com. Textbooks can also be ordered on this website, or by calling (800) 642-4075. If you choose to purchase your textbook(s) from another retailer, please be sure to contact the SCC Bookstore to double check the accuracy of the ISBN and edition number, prior to placing your order.
Required Forms
Southeast Community College Application for Enrollment Form
Southeast Community College Course Registration Form
Please click HERE to view the SECC Articulation Matrix (This document will allow you to determine transferability of SECC courses to other Nebraska colleges and universities).
Articulation Matrix
Click HERE to view the Southeast Community College Articulation Matrix (This document will allow you to determine transferability of SECC courses to other Nebraska colleges and universities). It is highly recommended that students and parents verify with their chosen colleges/universities that dual courses they are planning to take will be accepted for transfer to that institution.
Drop/Add
Please click HERE to access the SCC Drop/Add Form.
The SCC Registration Department is REQUIRING student drop/add documentation with student signatures for SENCAP and dual program courses that are dropped or added, for appropriate SCC documentation. Prior to any SCC add or drop deadline, this SCC form will need to be completed by the high school student who decides to drop or add a course, then scanned, faxed or mailed to SCC Assistance Director of Career Academies Erin May. It is the student and parent/guardian's responsibility to meet the SCC deadlines.
NEED AN APPLICATION? Please click HERE to access the SENCAP application. Applications may also be picked up in Mr. Harris's office.
Contact Mr. Harris in the Guidance Office for more information (jharris@wahoowarriors.org, 443-4332 ext. 3229). Spring 2019 applications due by Friday, October 26, 2018.