2019-2020 WHS National Honor Society
2019-2020 NHS APPLICATION (due date: August 16): .docx | .pdf
Welcome to the Wahoo High School National Honor Society!
Welcome to the page of the Wahoo High School National Honor Society. We hope that this page provides you with valuable information about our organization and activities throughout the year. As the year begins, the following information may be valuable. Check back often for updates to membership and important dates. If you have any questions about this page, please contact the adviser, Mr. Clayton Tomjack.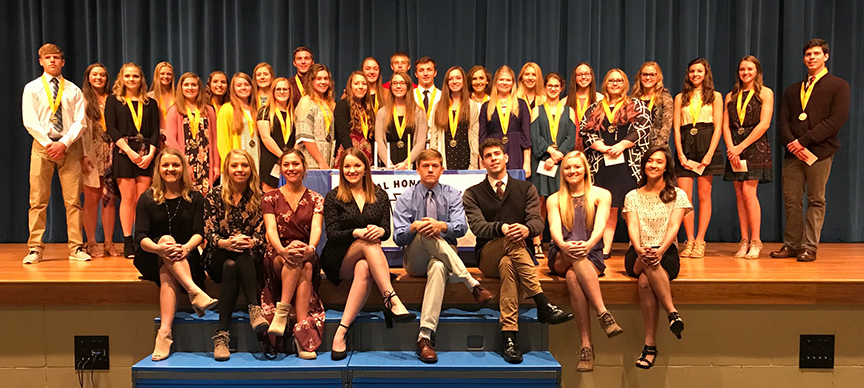 2017-2018 WHS National Honor Society Members, back row (from left): Bret Walker, Mattison Pfeiffer, Raegan Andresen, Kaitlynn Borchers, Anna Dobesh, Lara Celesky, Gabi Girmus, Shelby Griego, Riley Harrell, Cameron Quick, Macy Homes, Abigail Klein, Emily Pokorny, Bryson Keller, Zane Bennett, Leah Maass, Emily Obert, Sydney Moline, Katie Pace, Mary Privett, Kinsley Tingelhoff, Shawna Walla, Erin Sutton, Emma Thrasher, Jaclyn Schnakenberg, Isaac Redding. Front row: Morgan Marotz, Katie Pearson, Sarah Iversen, Kristin Callan, William Hancock III, Aaron Redding, Taryn Scheef, and Korena Edmonds.
Officers and Members
President: Grace Wirka
Vice-President: Kendal Brigham
Service Programs Director: Paige Peterson
Secretary: Grant Crockett
Treasurer: Nate Fox
Seniors: Jade Andresen, Elise Cejka, Zoe Christenson, Kalon Cooper, Alec Gettert, Trey Johnston, Kaitlyn Herndon, Rachel Myers, Trey Scheef, Jackson Taylor, Gunnar Vanek, Thomas Waido, Alyssa Walla
Juniors: Sam DoBois, Kharissa Eddie, Tessa Gatewood, Elizabeth Hatfield, Greeley Hauswald, Lauran Kavan, Mikah Kavan, Sara Lindgren, Alyssa Luedtke, Madison Masek, Olivia Scott, Kelsie Sears, Brody Specht, Avery Spicka, Sydney Stuchlik, Sarah Sutton, Brett Whitaker
Graduate Members
Zane Bennett, Kaitlynn Borchers, Lara Celesky, Anna Dobesh, Gabrielle Girmus, Macy Homes, Abigail Klein, Elly Larson, Leah Maass, Emily Obert, Mattison Pfeiffer, Emily Pokorny, Noah Polacek, Jaci Schnakenberg, Erin Sutton, Emma Thrasher, Shawna Walla
Faculty Council Members
Mr. Darold Foster
Mr. Chad Fox
Mrs. Mary Nuckolls
Mrs. Barb Shanahan
Mr. Jason Smith
Adviser: Mr. Clayton Tomjack
2018-19 Dates to Remember
August 16, 2019 - Application Packets due to Mr. Tomjack
August 23, 2019 - Teacher Recommendations for members due to Mr. Tomjack
August 28, 2019 - Membership Interviews with Faculty Council begin
September 22, 2019 - Induction Ceremony
November 14, 2019 - Red Cross Blood Drive
December 20, 2019 - Fall 2019 service hours due to Mr. Tomjack
January 22, 2020 - Red Cross Blood Drive
April 29, 2020 - Red Cross Blood Drive
May 1, 2020 - Spring 2020 service hours due to Mr. Tomjack
Bylaws
Please click HERE to access the National Honor Society Bylaws (updated 5/1/2016)