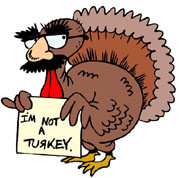 Close Up to hold 22nd annual Turkey Dinner
Over 200 turkeys will sacrifice everything for the Nov. 11 event
The 22nd Annual Wahoo High School Close Up Turkey Dinner with all the trimmings will be held on Sunday, November 11, 2018 in the Wahoo High School Cafeteria. The event is an annual fundraiser to raise money to assist students in paying for this spring's Close Up trip to Washington, D.C.
Carryout dinners will be available starting at 10:30 a.m., and dine-in dinners will be served between 12:00 and 2:30 p.m. Each meal comes with turkey, stuffing, potatoes with gravy, and corn.
Cost of the dinners is $10.00 per ticket. Tickets can be purchased from any Close Up student or at the door on November 11.
Questions? Please contact WHS Close Up Sponsor Caleb Grummert.
Thanks for your support!